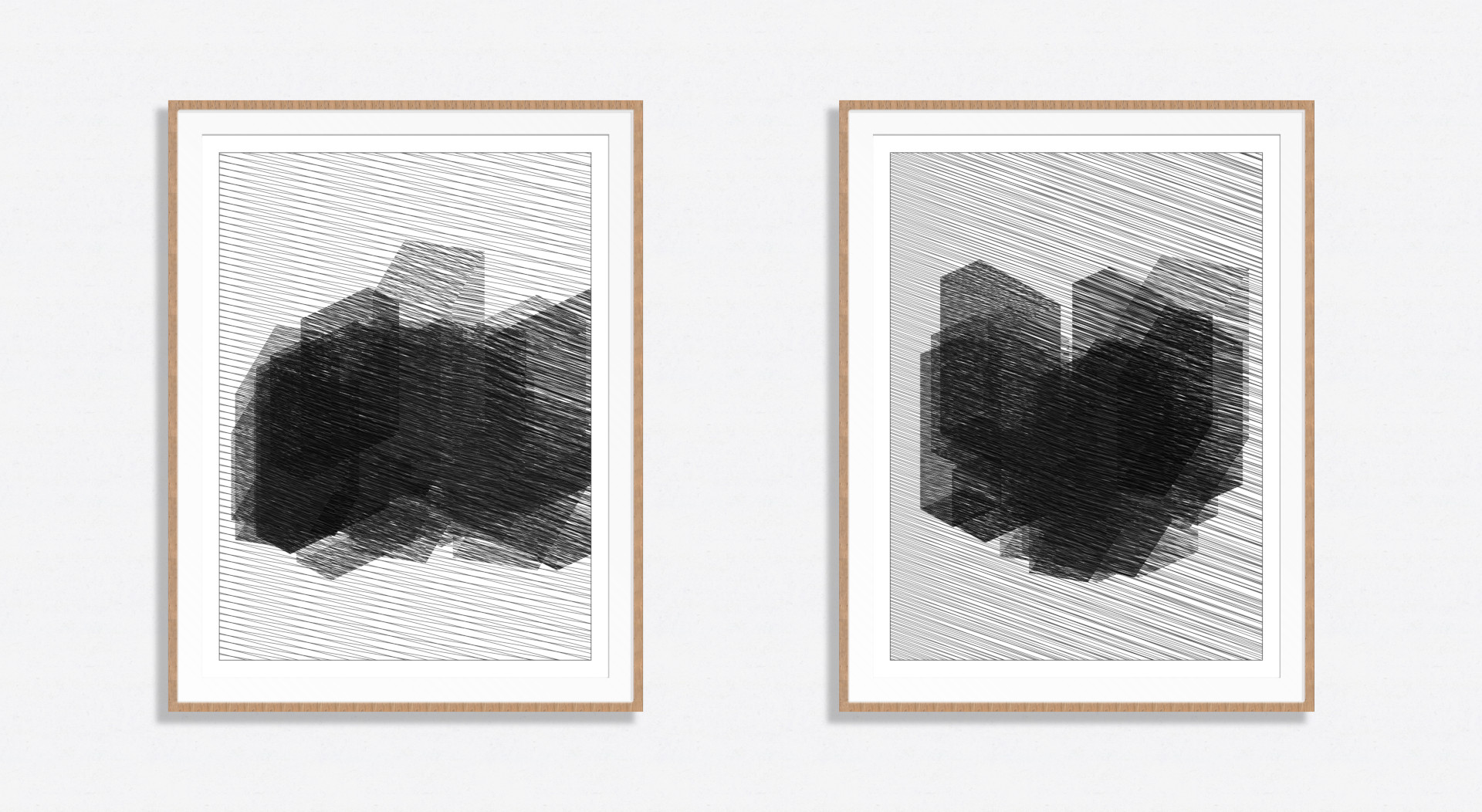 Program, two possible formats, 32 unique and random copies, 2023.
This creation is special; it is part of a specific period called #genuary. It's a month during which creative coders (who want to participate) must create a program every day based on a given theme or prompt.
Each day, hundreds of people share their works on social media, seeking to learn new techniques or applying the ones they have already acquired, invoking their creativity to provide a unique response to the theme using their sensibilities and cultural backgrounds.
More Random Moiré was created within this framework. It corresponds to January 23rd and the theme "More Moiré," but it is the result of a longer process as it is a creation that I remixed and readapted multiple times during the code challenge.
January 11th / Suprematism
Being a great admirer of Kasimir Malevitch's work, I decided to recreate his compositions using JavaScript. What strikes me about his compositions is the impression of movement, even though they are just simple geometric shapes stacked on top of each other. To create the illusion of stacking, the program randomly places them while restricting their rotations (by adding a global rotation to the composition).
January 22nd / Shadows
The concept of shadow implies the idea of volume for me. The idea of representing volume intrigued me in relation to Suprematist compositions, specifically the representation of volume rather than actually creating volume.
Therefore, the goal is to simulate volume, which is simpler to achieve without a vanishing point. Cavalier perspective or isometric grids allow distances to be translated and extrusions to be made without dealing with complex formulas. In this program, everything is calculated in two dimensions. It is only necessary to identify, among the six faces of these blocks, the three that will be visible and therefore traced.
January 23rd / More moiré
The idea of using the Moiré pattern on these planes came to me quite quickly, perhaps because I felt the need to correct something. The smooth aspect lacked interest since there were no textures to attract the eye, no gestures or movements for the eye to wander across the composition.

The Moiré pattern then adds depth to these flat shapes, somewhat endangering the impression of volume. Normally, Moiré patterns are created using parallel lines, but here a small amount of randomness makes them intersect. This overlapping creates a texture that gives the faces a rhythm, a sketched aspect that immediately appealed to me. The title here functions as a slogan: "a more random Moiré," "For a different Moiré." The idea of using non-parallel lines and thus breaking the main rule of this pattern also seemed very artistically conceptual. After all, who better than Art can break free from rules?