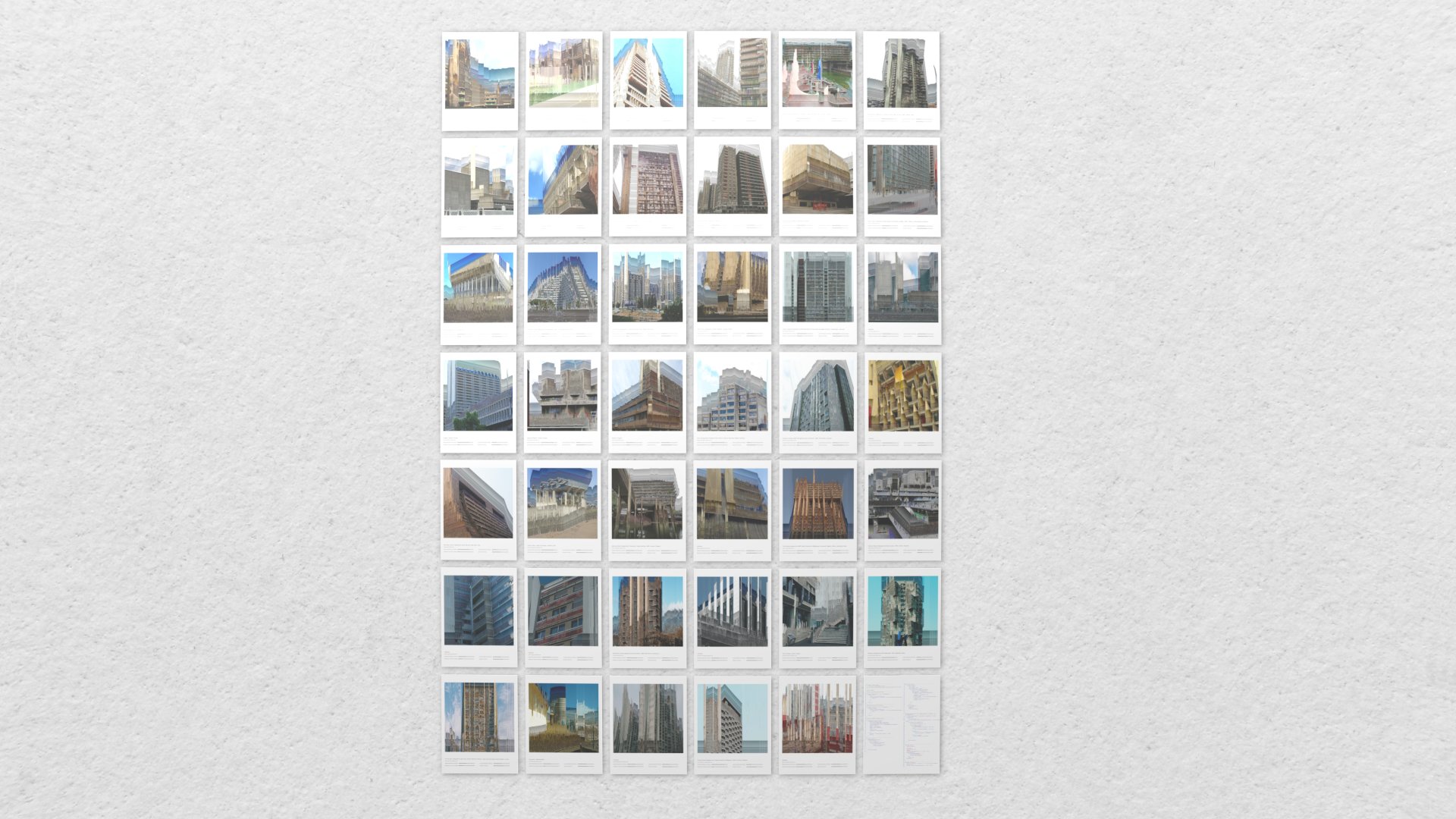 42 digital prints (10 x 13cm), variable dimensions, 2020.
This series of photographic prints was produced by a program developed by the artist.
The photographs that served as the source – the raw material – came from two online platforms. These allow the authors of the photographs to share their image files with their community by protecting their rights (open source licenses1).
This group of images is an inventory of buildings from the 50s and 70s belonging to a branch of modern architecture: brutalism. These buildings are located in sixteen different countries2. These are not archive images but recent shots. It is therefore a question of seeing this architecture with a contemporary eye, as this movement was appreciated in an ambivalent way between the post-war period and the beginning of the 21st century.
The programme has gone through the images looking for thresholds of luminosity: the lightest pixels as well as the darkest. Then it moved them vertically so that they would meet the pixels of opposite brightness. During this displacement, the color is altered while keeping the original hue.
The first idea was to confront the grid of the elevation plan of these towers with the grid that defines the digital images, which are in reality only spreadsheets where the colours are stored. The social aspiration of the modern movement, through the fact of wanting housing for all, is found in the open-source movement which intends to bring digital tools to everyone. The program developed for the creation of this series is itself deposited in open-source as well as the database that references the images and the parameters of their alterations.
Through this series, the question of the future of modern utopias is raised.
---
1: Creative commons license https://creativecommons.org/
2: Australia, Canada, Croatia, Denmark, France, Germany, India, Ireland, Italy, Lithuania, Northern Macedonia, Moldova, Poland, Serbia, Spain, United Kingdom and USA.