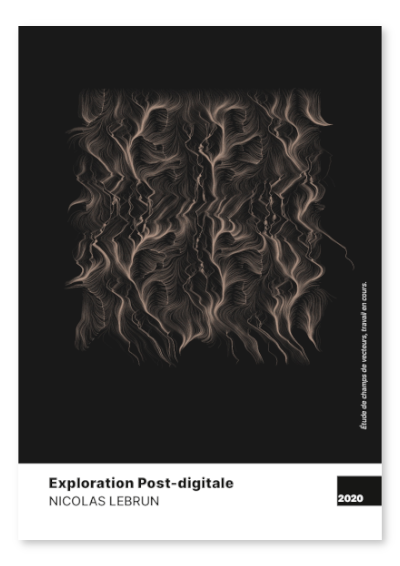 The work presented here deals with two themes: the virtualisation of today's world and the creation, application and use of virtual objects and spaces by our contemporaries.
The first subject is approached through the prism of science. Virtualization is meant to be practical since it engages theoretical models for a better knowledge of the world. This gives rise to projects that borrow formulas of equations, or even sometimes devices that stage the relationships of various elements that participate in the same phenomenon.
The second subject of study concerns the increasing entanglement of the digital or virtual sphere in physical space. It is therefore not a question here of natural phenomena but of the evolution of human habits and practices with regard to technological and societal developments.
The way of dealing with these two subjects is similar although it gives rise to varied objects and postures. The work begins with the discovery of a subject which relates to one of the two themes or which carries within it a virtual, speculative or predictive dimension. This is followed by an analysis to understand why this subject fascinates me and to grasp the elements, not auxiliary but principal, that define its functioning. What model does it propose?
Based on this analysis, it is possible to develop a didactic or pedagogical object, since the study of the subject is intended to be as neutral, impartial and scientific as possible. However, the various forms that will emanate from it will not be as objective, but rather perceptions of phenomena that carry within them all the biases of the observer/author as well as the limits of his knowledge. It is therefore more interesting to leave the analytical approach to look at the perception we have of the object.
Creation takes place in a kind of displacement, transposition. by successive steps backwards, the first one aiming to detach oneself from the subject, to understand it without giving in to a too immediate perception. The second uses memory and the subconscious to deliver a more poetic or dreamlike perception of the subject.


Télécharger le book en version optimisée pour le web (21,7 mo)